Plungie never fails to generate excitement.
Whether it's a homeowner seeing their pool craned into their property for the first time, or builders and developers realizing the potential for the product and their business, there's nothing quite like Plungie.
This buzz of excitement reached new heights recently, at Plungie's demonstration to members of the Dallas Builders Association.
Two weeks ago, a group of builders, engineers and architects from across the Sunbelt were treated to a presentation and full demonstration of a Plungie installation. This included workshops to walk-through site preparation, plumbing, electrical bonding and other elements of the Plungie system, including of course, the crane installation.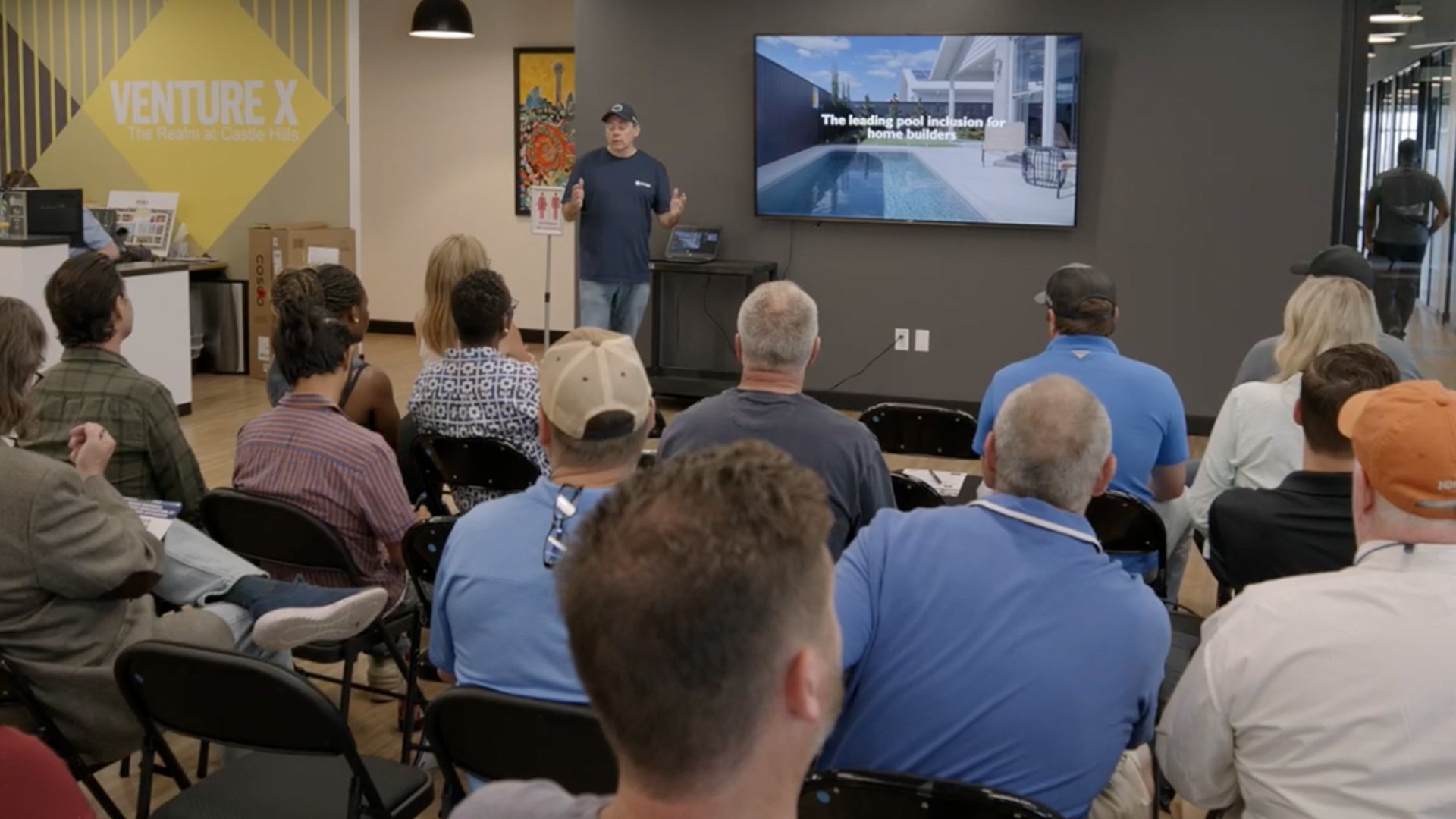 It was also an amazing opportunity for members of the Association to meet with members of the Plungie team, get their hands on the product, and share ideas with their peers.
"It's been really exciting to be here in Dallas, in person, for the first time," said Amanda Stone, owner of Palmingo Pools, a petite luxury pool builder in the Nashville area.
"I've been on the phone to the Plungie team for the past year and a half … and to meet everyone in person, it was like meeting old friends," continued Amanda, "it was fascinating to be here and pick up a couple of nuggets, of not just how other people and business owners are doing things, and the processes and strategies that they're establishing, but also to just hear what's coming down the pipeline with Plungie and their third-party partners."
The excitement was palpable throughout the day, reaching a crescendo as an 11 ton (26,000 lb) concrete pool was craned into inch-perfect position.
Amanda, who already has 10 Plungie pool installs under her belt, commented on "the statement it makes with the crane going in; people in the neighbourhood seeing that and wondering what is going on? It's like going to a show, we should almost just bring popcorn on that day."
Despite all the excitement of the demonstration, the real buzz was in the minds of builders and the endless opportunities Plungie offers them and their clients.
Matt Mitchell, owner of James Andrews Custom Homes and former president of the Dallas Builders Association described this feeling perfectly, saying "I think it's a fascinating, creative concept ... now everyone starts talking about it and thinking, 'oh what about this situation?', 'Oh, I didn't think about this' … it's just a question of being creative".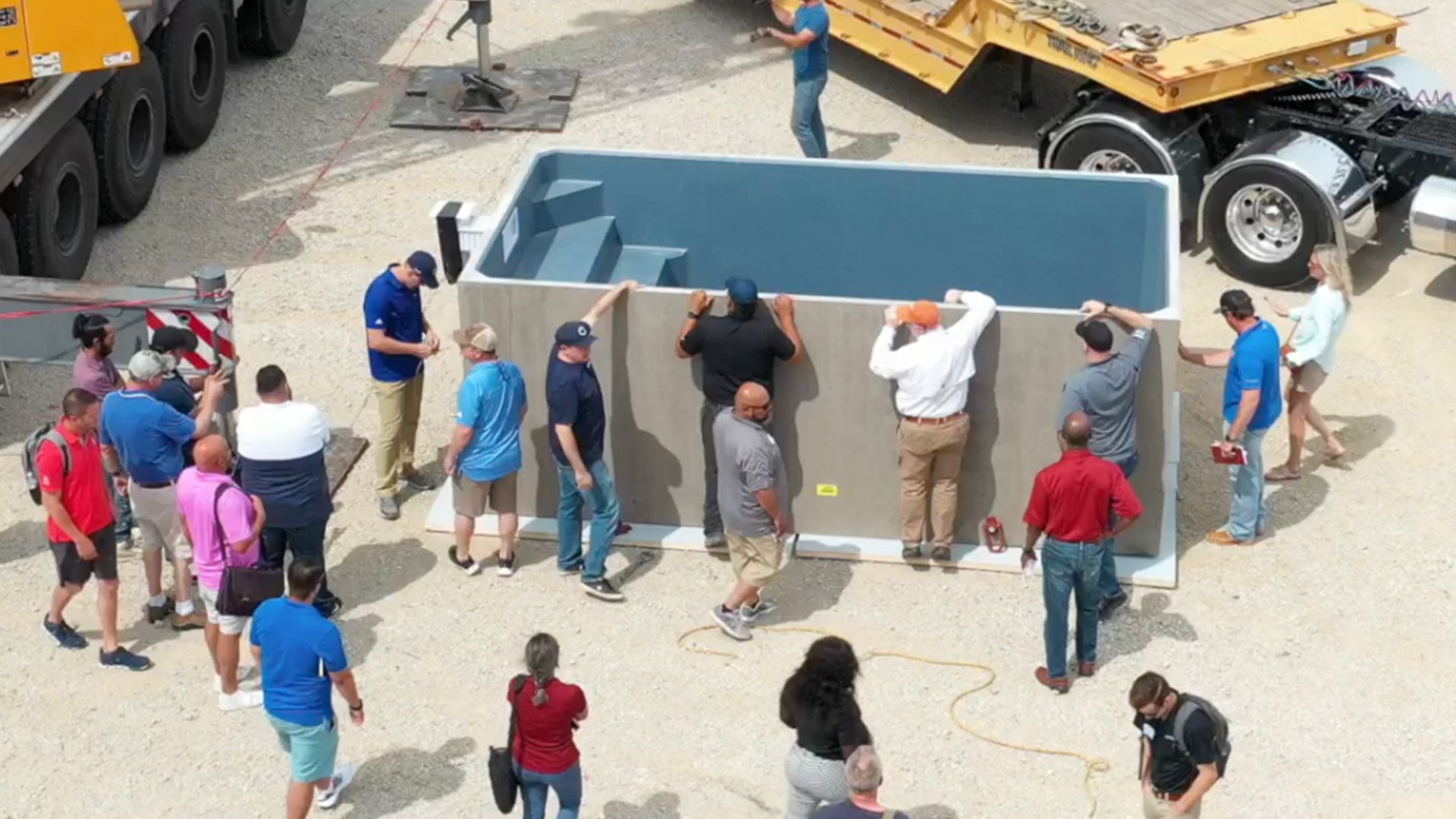 The versatility of Plungie was plain to see for all the builders, architects and engineers who attended the demonstration. Moreover, seeing so many of the traditional problems associated with pool construction addressed in one simple yet ingenious product; a product that seems future-proofed for the world's changing demands.
As was echoed by Chris Harmon, founder of Custom Coastal Designs, based out of Charleston, South Carolina, saying "the pool is going to become a standard fixture instead of just an option; [Plungie will be] instrumental in providing a solution to [the] problem [of] how to get a pool in place to make that backyard your destination; your resort; your oasis."
As for the day itself, Chris continued, "I was very impressed with the presentation; the people, they're knowledgeable and more than willing to get involved with you on all levels, so I was very appreciative."
It was also a fantastic opportunity for Plungie itself, connecting with the builders, architects and engineers who pass our product on to the end consumers. These sessions are a must for anyone connected to the building industry – equipping you with the tools to take the next step forward for your business and customers.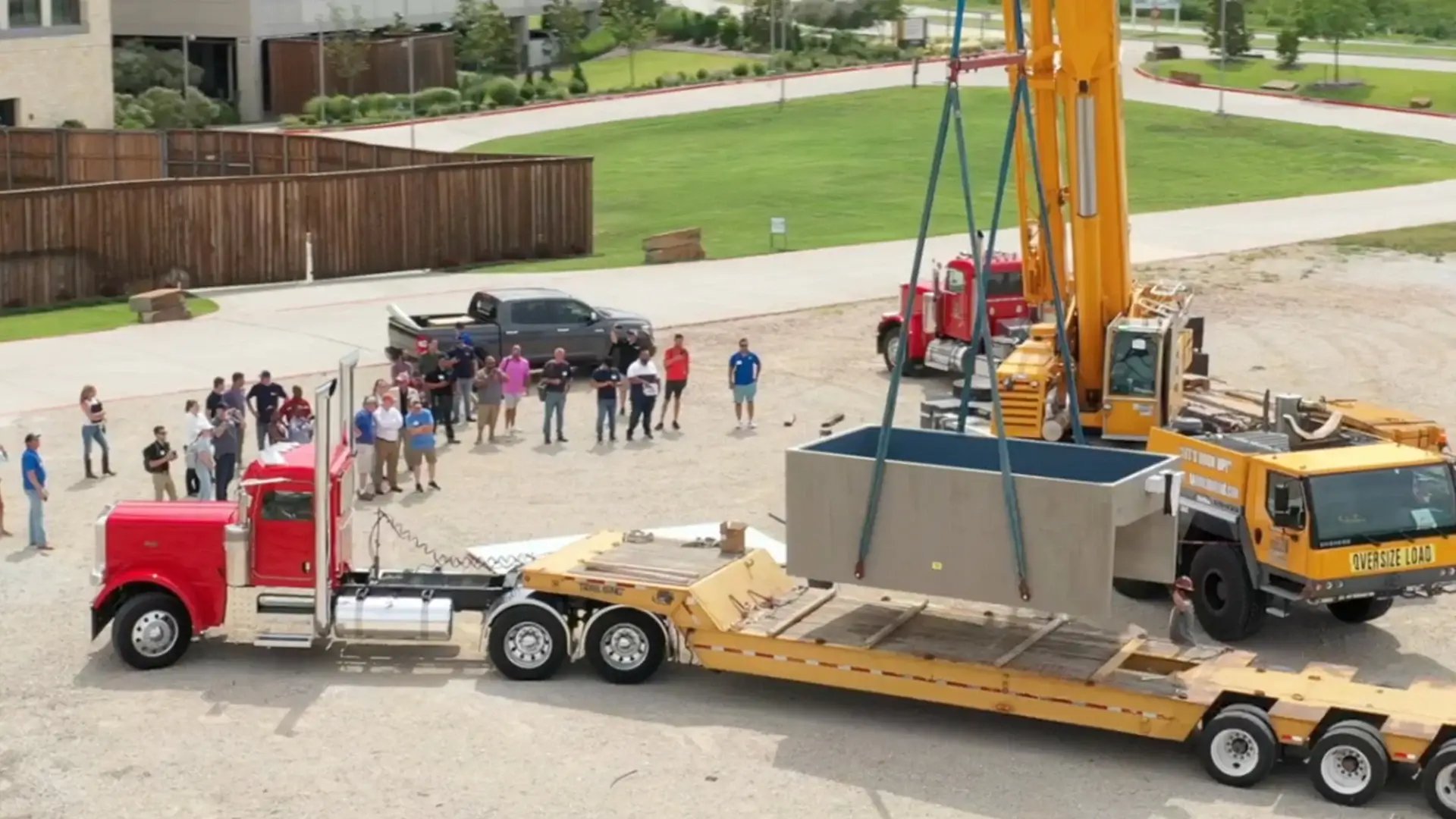 If you're ready to find out what the buzz is about, Plungie will be at the Sunbelt Builders Show in Dallas, TX from 13-14 July, 2022. Register today and we look forward to seeing you there.
Plungie USA
Booth #713
Sunbelt Builders Show
13-14 July, 2022
Hilton Anatole Dallas