Installing a pool at a lakeside property may seem like an oxymoron, but for owner-builder Jason DeLong, it was the key to creating a vacation home that would appeal to both his family and short-term renters. The surrounding nature of this property on the Lake of the Ozarks was a key selling point; typified by two bald eagles nesting in the backyard on Jason's first visit. The only downside of this stunning lakefront location? The neighbors had a swimming pool — and Jason's kids wished they had one too.
Adding a pool made sense to Jason and his wife, Jan, for two main reasons. Firstly, when they flip homes, they always aim to create properties they'd love to stay in. Adding a pool and deck would create the perfect outdoor space for them to relax and take in the picturesque lake views. Secondly, vacation homes in the Lake of the Ozarks rent a lot better with a pool.
"Your property's going to get booked a whole lot more and probably for a higher dollar amount for the people that want to use a pool. It's just a different option that a lot of properties don't offer."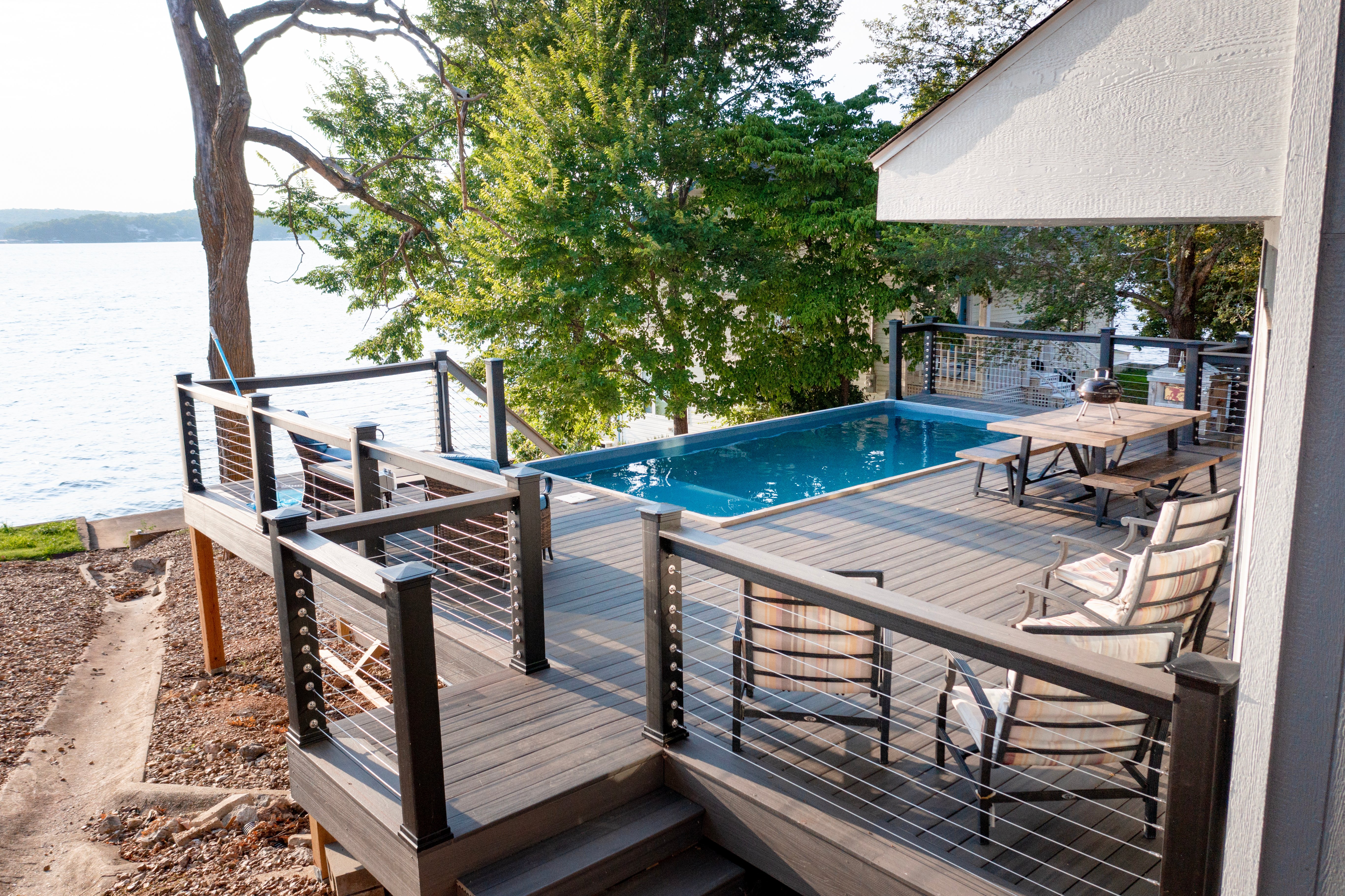 At the time of the remodel, the lead time for a traditional pool was around two years due to COVID-19, and pool companies were getting more expensive. That's where Plungie came in.
"I got on the website and just put an inquiry in and somebody got back to me within a day and let me know what all my options were."
It became clear that Plungie was going to fit in with their timeline, with the whole process from ordering to installation completed in under six weeks. Jason added, "I've never built a traditional pool, but I can tell you it was a whole lot simpler."
Out of the three models, it was obvious that a Plungie Max would work best for Jason's property, and having the design specifications available online made getting permits easy. Because the pool was prefabricated and pre-engineered, all that needed to be done was level off the site and pour the concrete pad, saving time for Jason's team. "I think it was great because it was self-supporting. We didn't have to build the retaining wall that we thought we were going to have to build,".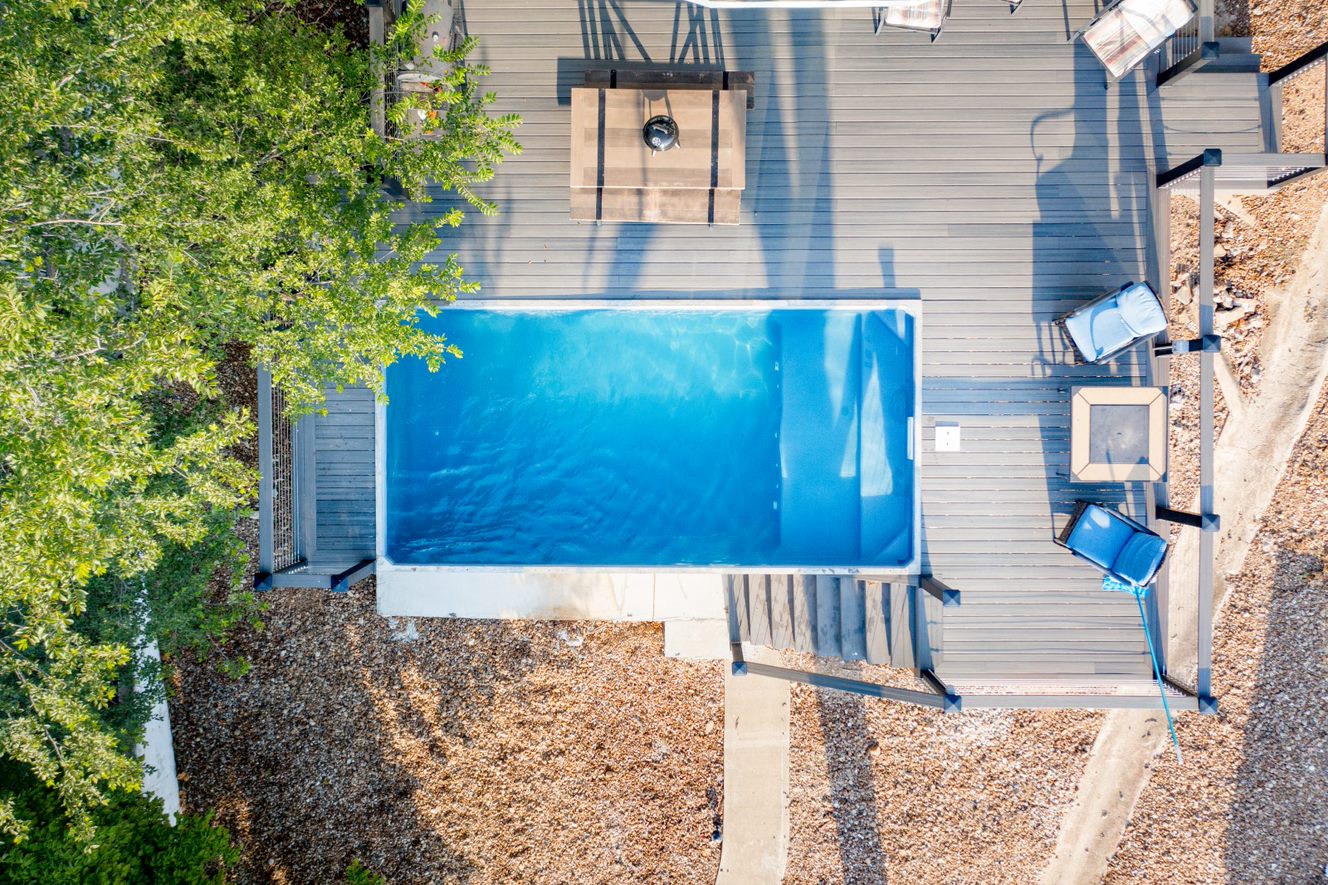 Even for a builder like Jason, there was some anxiety that came with lifting the pool into place on delivery day. The Plungie Max had to be lifted over the house and power lines, so there was little room for error. Thankfully, he was in good hands.
"The crane operator knew exactly what he was doing and he and the Plungie driver that delivered the pool worked hand in hand and made it really seamless."
Once the pool had been lifted into place, Jason recalls that plumbing up was very straightforward.
"I would say the most impressive part of the installation was having it craned in place and ready to go within a matter of hours. Plungie and Hayward going hand in hand worked great. Our installer that hooked up the plumbing said it was the easiest hookup he'd ever done on a pool,".
A Plungie has helped Jason and Jan create their dream vacation home while also increasing rental appeal. And, thanks to Plungie, there's no more pool envy when the kids look over the fence.
"Now, when we go down there, we'll get to experience the same as our guests do, and have that amazing outdoor space with a pool there to enjoy."
If you're ready to take your property to the next level with a Plungie, contact us or download a quote & info pack today.