In case you missed it, we recently attended the 2023 NAHB International Builders' Show (IBS) in Las Vegas — and it was awesome. When we weren't at our booth chatting about the benefits of Plungie, we got to check out the 1,300 other exhibitors at the show. One of the latest trends on display was high-quality modular homes. We knew 'kit homes' had come a long way since their post-war heyday, but were blown away by the level of quality achieved by current models.
With no compromise on quality, these homes mean we're one step closer to homeowners and builders embracing prefab and reaping its benefits. Here are four of the most innovative prefabricated home companies we saw at IBS.
Panelsan
Founded in Turkey in 2004, Panelsan specializes in the production of insulated sandwich panels. Almost 20 years on, the company has ventured into housing, displaying a prototype of a prefabricated home at IBS.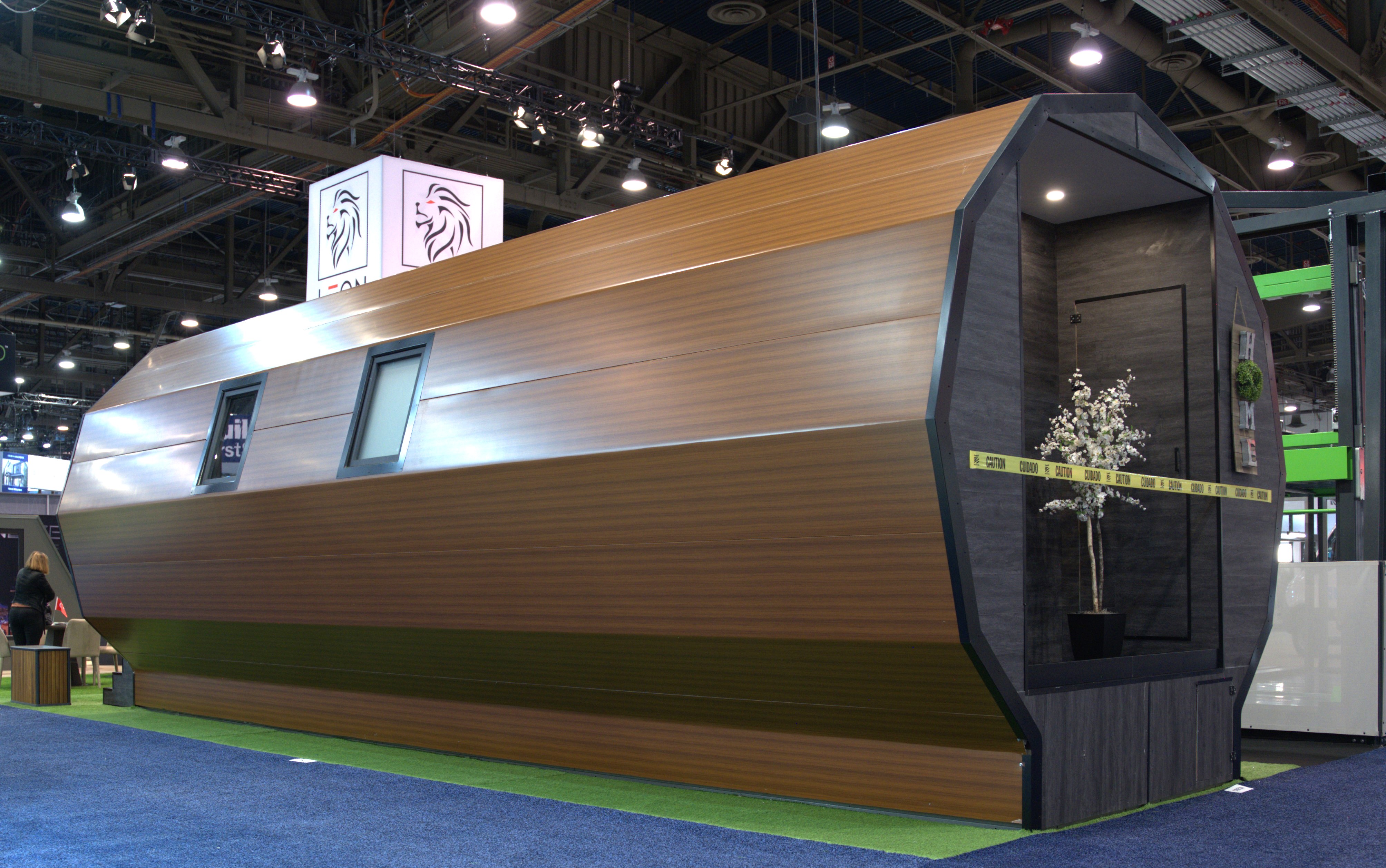 In the shape of a decagonal prism, the home looks like it could belong in a piece of honeycomb. Despite its compact size, this house has everything you need — a combined kitchen and living area, a bathroom (complete with shower and vanity) and a bedroom that can comfortably fit a double bed. To top it all off, there's a tidy entryway with steps and a front patio. Not bad for a home that's built in a factory and assembled on-site.
Panelsan's aesthetic sandwich panels come in various colors, so the home's exterior can be customized. The company prides itself on being able to respond to all needs in the sector with their products, including heat insulation, air-impermeability, and fire resistance. With these capabilities, it's safe to say that we can expect exciting things from Panelsan and their prefab homes in the future.
Genesis Homes
It's hard to believe that a family home could be built in a car park in just four days, but that's exactly what Genesis Homes achieved at IBS. We walked through the 1,887-square-foot Mammoth Park model and couldn't be more impressed with the inclusions.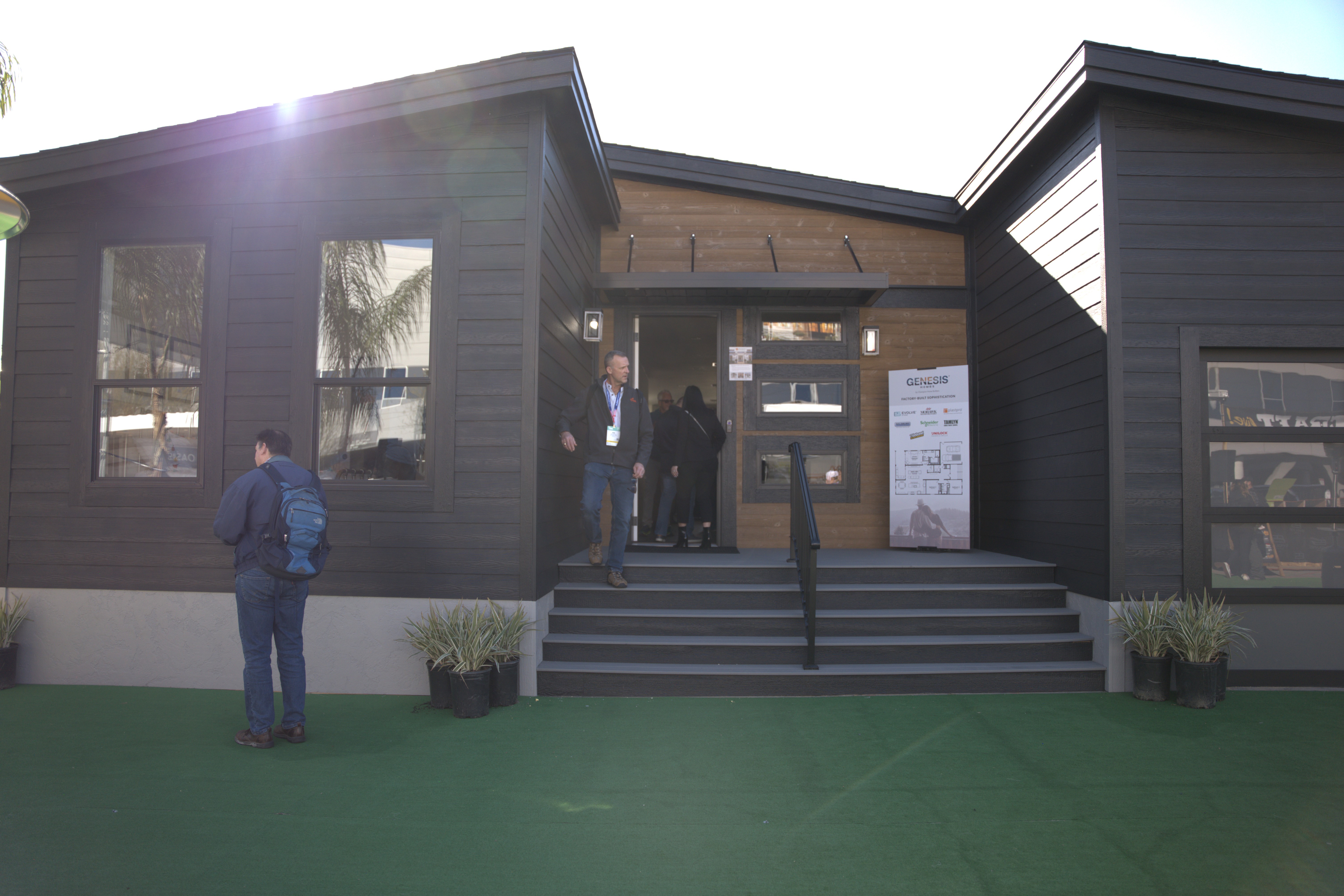 The home is triple-wide, meaning it's comprised of three, factory-built sections that were joined together on-site. It has three bedrooms, two bathrooms, a large, open-plan kitchen, and a two-car garage. Our favorite part? There's ducted air conditioning throughout.
What's better than one prefabricated home? Two. Genesis homes outdid themselves by constructing an accessory dwelling unit (ADU) next to the home. With two bedrooms and one bathroom, the Crystal Cove model ADU would make the perfect guesthouse.
It's pretty clear that Genesis Homes have achieved their goal of creating well-designed homes with features customers will love — at a price they can live with.
Boxabl
Boxabl embodies everything great about prefab — innovative, durable, affordable, and incredibly efficient. They create fully finished boxes that can be connected to create a larger space. What makes Boxabl structures unique is that they are unpacked rather than assembled. Once the box arrives on site, the walls are folded out to create the full structure in an hour. The boxes have flat roofs, so can be stacked to create a double-story home. A pitched roof can even be added to bring them up to local building standards.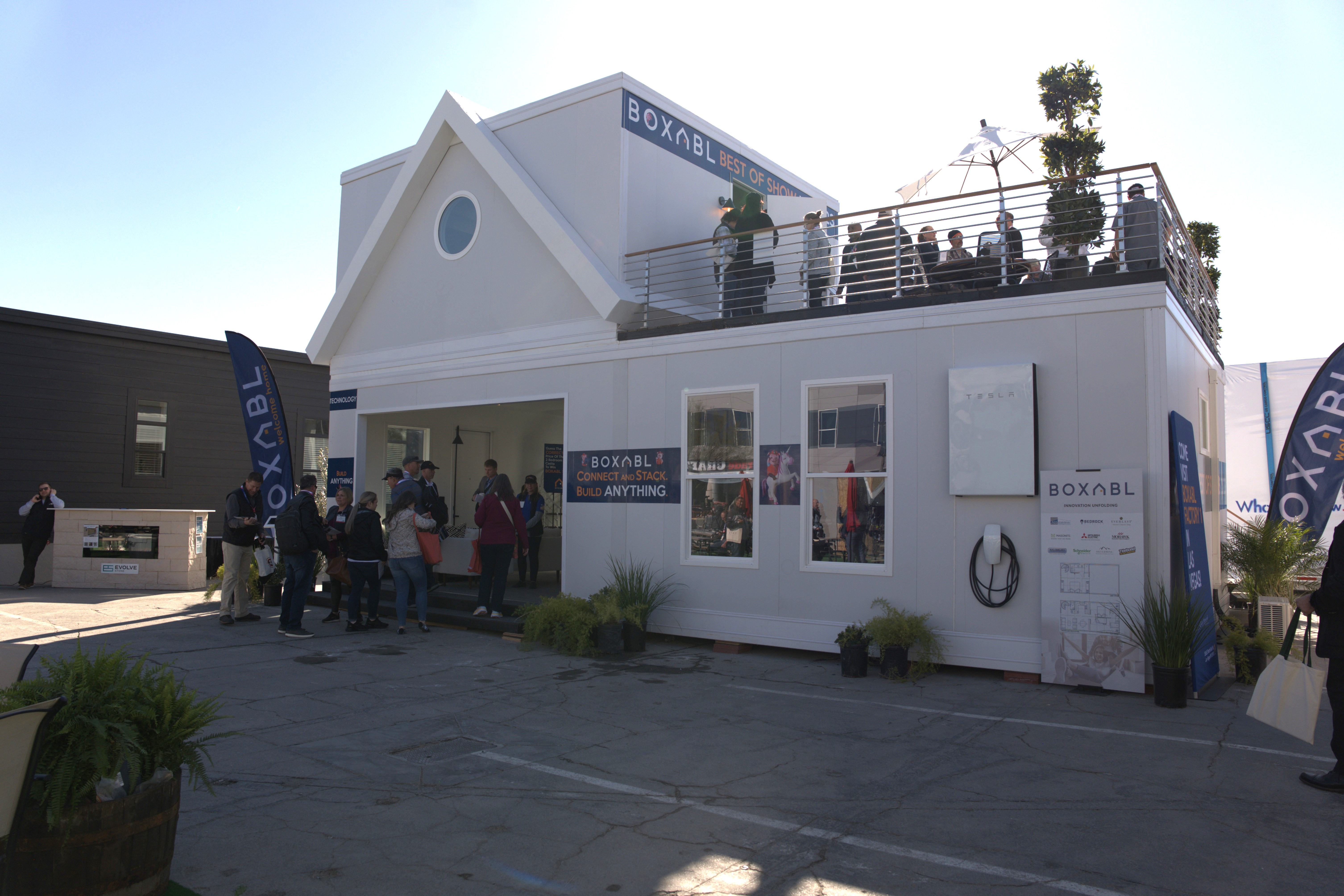 At IBS, the ground floor was constructed from two connected boxes, with a third box stacked on top. The two levels were connected by a spiral staircase, a design feature that feels highly considered. The roof of the single-story portion was cleverly used as a rooftop entertaining area with a deck. Head to the Boxable Facebook page to watch the IBS home get unpacked.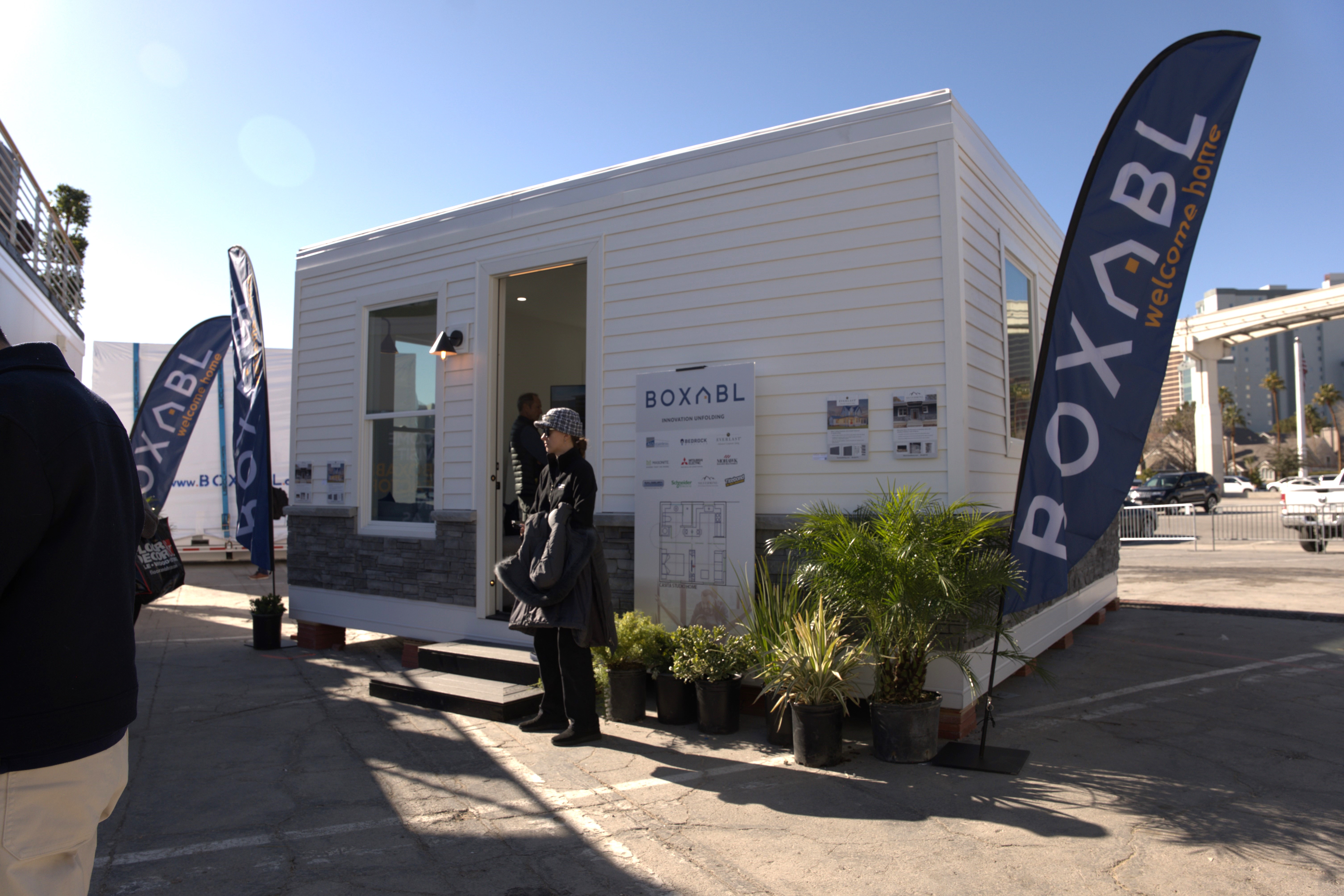 As well as designing prefabricated boxes, Boxabl manufactures an ADU called the Casita. The Casita is not your average tiny house — it comes with everything you'd need to move straight in including an oven, dishwasher, microwave, and fridge. It even has luxurious design elements such as a backlit bathroom mirror, 9ft ceilings, and dimmable LED lights. You can take a virtual tour of the Casita to discover all of its features.
Impresa Building Systems
Charming and quaint aren't words usually associated with modular homes; until now. With a weatherboard exterior, the Compact Modular Cottage from Impresa Building Systems oozes character.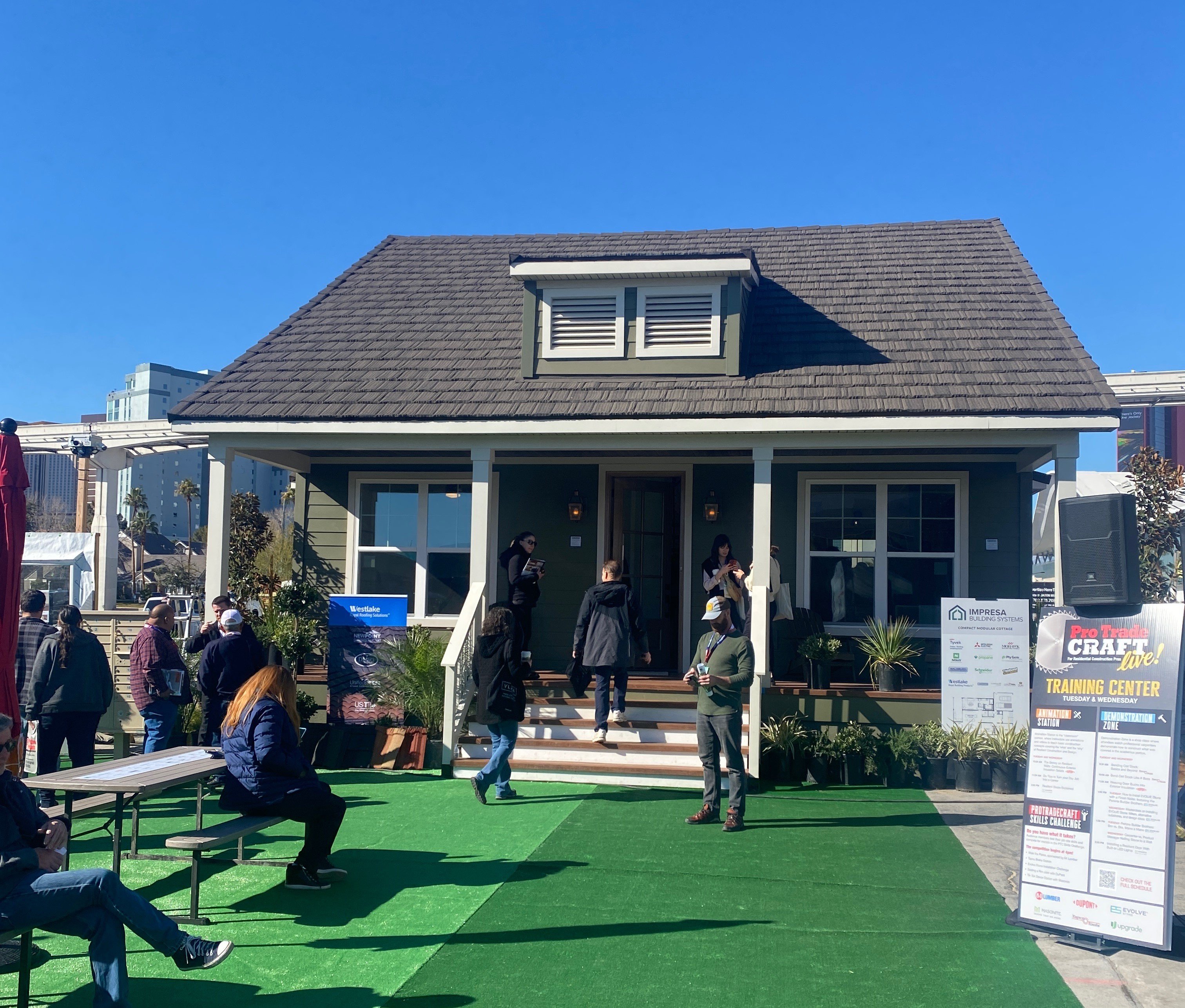 Although it looks cozy from the outside, the home boasts two bedrooms, two bathrooms, and a multi-purpose loft space. A magnificent vaulted ceiling opens up the combined kitchen, living, and dining area. The Compact Modular Cottage was designed with the outdoors in mind, with a front and rear porch that are perfect for relaxing and watching the world go by.
Head to the Pro Builder Show Village website for more information about the displays from Genesis Homes, Boxabl, and Impresa Building Systems. You can read about everything from the products used inside the homes to the project team that built them.
What Does This Say About Prefabrication In Construction?
The biggest takeaway from IBS is that there's no compromise on quality when it comes to prefabricated homes. With generous living spaces, ducted air conditioning, and high-spec interior finishes, they look and feel just like a traditional home — if not better.
Just as there's no compromise with a prefab home, there's no compromise with a prefab pool. At Plungie, we've created a high-quality product that homeowners and builders across the world are proud of. The difference between a traditional concrete pool and a Plungie? Everything! A Plungie puts control back in the builder's hands and allows them to deliver bigger projects, faster.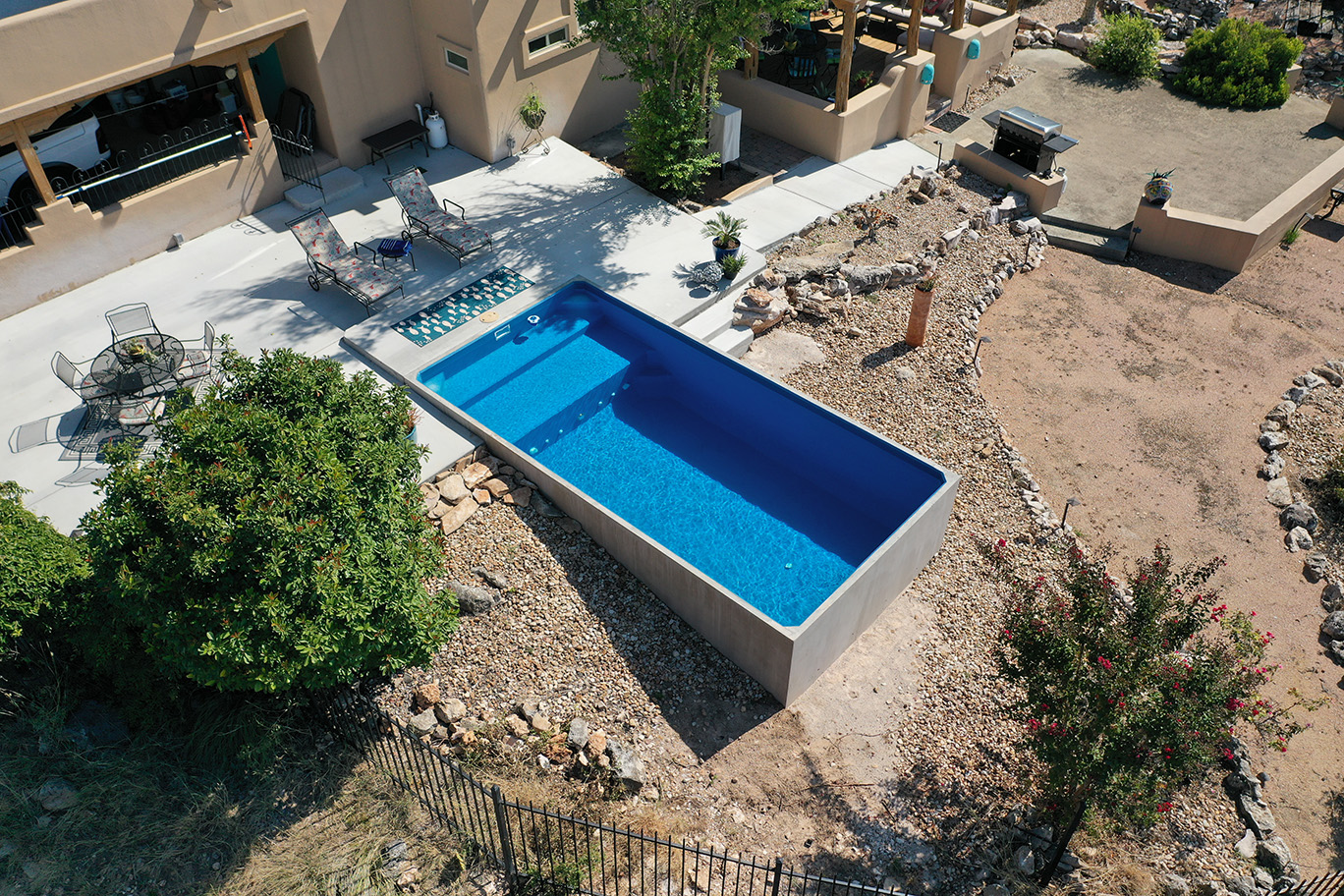 The only thing missing from each of these impressive builds was a pool — maybe next year we can help with that. When you're considering a prefab home for your next construction project, consider a Plungie for your backyard. There's no need for the benefits of prefab to stop at the back door.